Economic Impact
The Biopharmaceutical Industry Helps Strengthen the U.S. Economy
A major contributor to the U.S. economy, the biopharmaceutical sector generates high-quality jobs and powers economic output for the U.S. economy. According to TEConomy Partners, LLC, "At a time when the economic competitiveness at the national and state level is recognized to be strongly rooted in the capacity to advance innovation-based industries, the U.S. biopharmaceutical industry stands out as a leading research and development (R&D) and advanced manufacturing industry."
These economic impacts are driven by the industry's research and development (R&D) enterprise. The biopharmaceutical sector invests more in R&D relative to sales than any other manufacturing industry, investing more than six times the average for all manufacturing industries.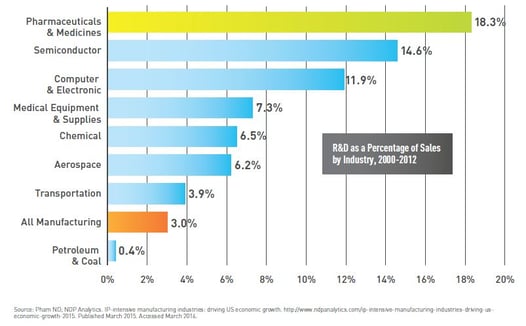 Since 2000, PhRMA member companies have invested more than half a trillion dollars in the search for new treatments and cures, including an estimated $58.8 billion in 2015 alone. The impacts of this spending and the sector's broad support for biomedical research ripple across the economy.
Creating jobs
The U.S. biopharmaceutical sector employs nearly 854,000 workers and supports a total of 3.4 million jobs across the country.
The industry helps support a vibrant scientific and economic ecosystem that is vital to the U.S. economy and our country's competitiveness in the global market. Biopharmaceutical companies put down roots in communities across the country, helping to generate jobs across a whole range of sectors, from suppliers to retail to personal services.
The jobs the industry creates have high wages and require a workforce with diverse skills and educational levels, from Ph.D. scientists to entry-level technicians, to support staff of all kinds. In 2014, employees in direct biopharmaceutical sector jobs earned an average salary of $123,108, more than twice the average $57,149 annual salary for all other U.S. jobs.
Overall economic contribution
The biopharmaceutical sector's economic output, which represents the value of the goods and services produced by the sector, totaled more than $558 billion in the United States in 2014. The sector also supported another $659B through its vendors and suppliers and through the economic activity of its workforce, for a total of $1.2 trillion.
To provide insight into the breadth of the industry's impact in the form of business relationships with vendors large and small, a recent analysis by We Work for Health aggregated data from 17 innovative companies across 17 states. The analysis found that in 2011, these biopharmaceutical companies spent approximately $53 billion in transactions with vendors and suppliers in these states.
Although just a snapshot of the sector's total impact, these findings demonstrate the importance of a strong and vibrant biopharmaceutical industry in helping other businesses to grow and contribute to a strong local economy. Vendor data from this analysis, broken down by congressional and state legislative district, can be viewed on www.weworkforhealth.org.
Boosting State and Regional Economies
Biopharmaceutical companies collaborate with local research institutions across the country—including clinical research centers, university medical schools, hospitals, and foundations—to carry out clinical trials, providing patients access to potential new treatments as well as creating local jobs.
A PhRMA program called "Research in Your Backyard" helps to illustrate the impact trials have on communities around the country. Twenty state reports developed by the program have been released highlighting the biopharmaceutical economic impact on these communities through clinical trials.
More broadly, the biopharmaceutical sector in the United States spurs economic activity and generates jobs across a whole range of sectors, from vendors and suppliers to the economic activity of its workforce. These benefits are felt far beyond individual biopharmaceutical companies and are built upon a robust foundation of innovation-led U.S. companies that sustain a diverse and large-scale supply chain for the development, production and distribution of treatments and cures to patients. Research from TEConomy provides estimates of this economic impact for the United States and all 50 states and the District of Columbia
Increasing productivity
Another aspect of the economic impact of medicines is their potential to improve productivity in the workplace through reduced absenteeism or disability leave, which benefits both individual patients and the economy as a whole. Several of the most common chronic conditions are estimated to have a combined cost to the economy of more than $1 trillion annually in lost productivity. Examples of improved productivity include:
Rheumatoid Arthritis: Researchers at the Integrated Benefits Institute found that high cost sharing for rheumatoid arthritis medications decreased adherence and led to increased incidence and longer duration of short-term disability leave. Researchers estimated that when workers with arthritis take their medication as directed, their lost productivity drops by 26 percent.
Chronic Conditions: Research shows that workers diagnosed with diabetes, hypertension, dyslipidemia, asthma or chronic obstructive pulmonary disease who are adherent to prescribed medicines were absent up to seven fewer days from work and used five fewer days of short-term disability compared with non-adherent workers.